NAV Upgrade Assessment Tool
"NAV Upgrade Assessment Tool" allows Dynamics NAV end-users to receive an assessment of the effort of their Microsoft Dynamics NAV to Business Central upgrade. It will show two possible scenarios and determine whether an upgrade is easy, medium or hard in each of those scenarios. The goal of this tool is to show how difficult it would be to migrate in the two scenarios:
Data upgrade, tables and add-ons only, or
Full upgrade, including customizations
This tool will help you collect information that is necessary for the automated evaluation. When installed and run in your NAV environmment, it will show you the following statistics:
number of companies in the database,
size of the database,
current NAV/BC version,
number of custom and customized tables,
number of all objects,
number of add-ons. It will also run a check whether those add-ons have new versions and migration path available.
If you are a Microsoft Partner interested in a full scope and price calculation, please get in touch with us via our website. The final result of this tool will not include a price estimate for the migration. If you are and end-user, please contact your Microsoft Partner for the pricing information.
Data policy​
Simplanova will only collect the data that you choose to submit for us in the final steps of this process. Simplanova does not save any data that you do not submit to us via the online form. If you wish to simply see the statistics of your solution, you may install the tool and use it without sharing the above statistical data with Simplanova.
The statistical data from your NAV solution that you submit using this tool does not contain any personal identifying data. When submitting this data in the online form, we will ask you to leave your name and contact email address and may use this information to get in touch with you.
How to get Assessment Report​
1. Download tool​
The NAV Upgrade Assessment Tool is a FOB file that contains the following three objects in the custom range: page 50098 NAV Upgrade Assessment Tool, page 50099 Assessment Tool Table List and MenuSuite 1070 NAV Upgrade Assessment Tool.
Please download one of the three FOB files according to your version of NAV:
2. Import tool​
Open your Microsoft Dynamics NAV Development Environment. Please make sure that you have the permissions and licenses necessary to import objects. Also check if you have the object IDs free for the above objects. If the custom page or menusuite IDs are not free, you will have to renumber our objects before using this tool.
Press File -> Import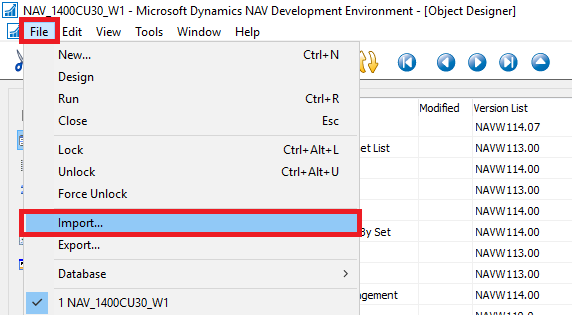 Choose the proper file and press Open. Choose No if you want to open the Import Worksheet or Yes to import pages/forms.
3. Run the tool​
After import, please open object designer, find page/form 50098 NAV Upgrade Assessment Tool and run it.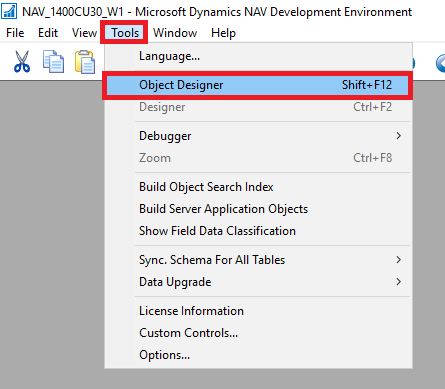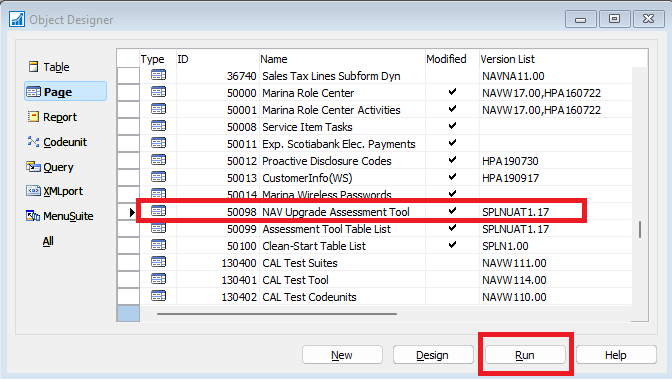 Once you run the that page, it will open in your NAV client. Please use the button Get Information to retrieve it. You should see something like the below screenshot: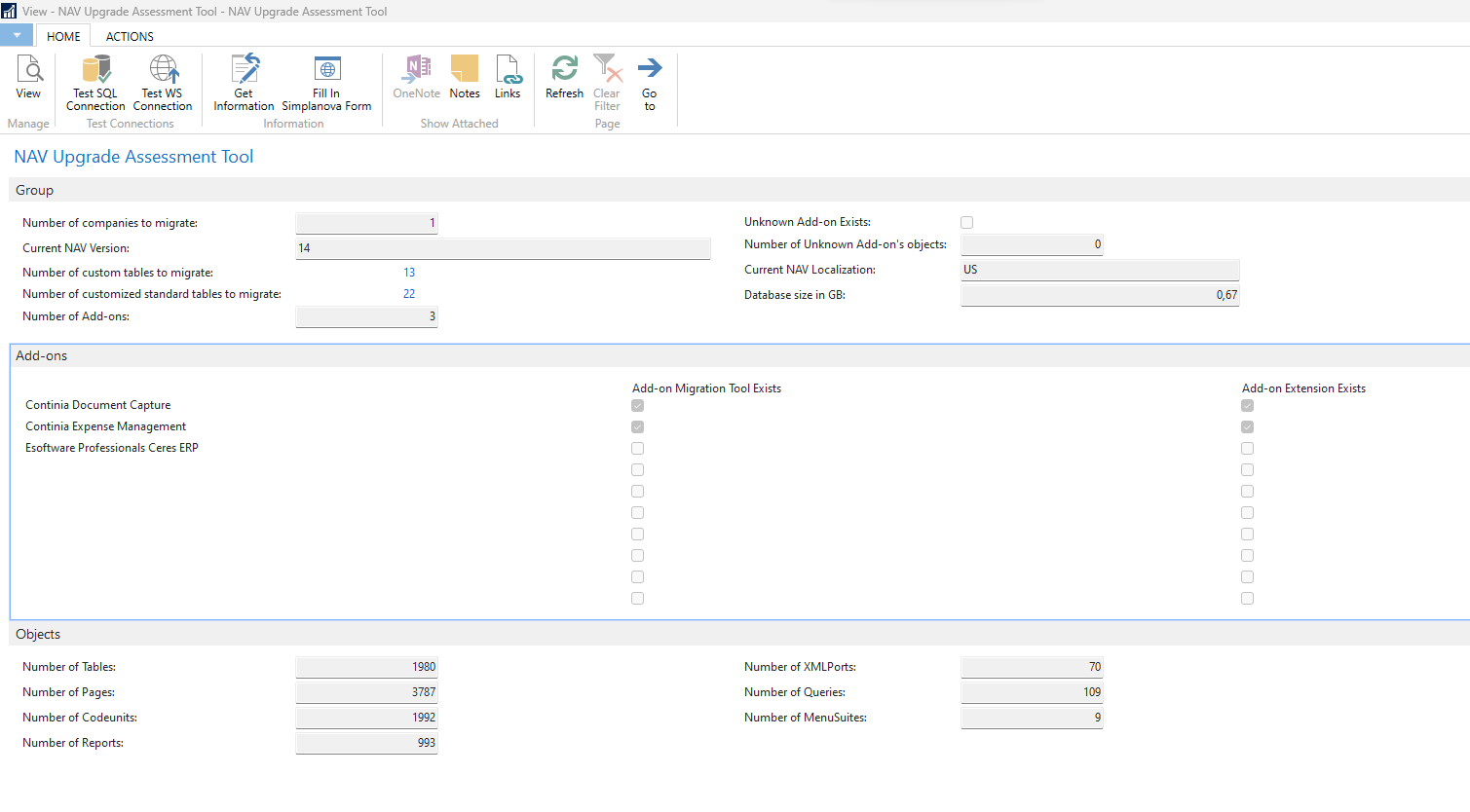 In case you do not receive any information, please use the Test SQL Connection and Test WS Connection buttons to learn where the issue might be. If you are still receiving issues, please share a detailed message to us at sales@simplanova.com
4. Review tables (optional)​
Before submitting the number of tables to be upgraded, we suggest reviewing the table list and deciding whether all tables should be migrated. In order to view custom or customized tables, drill down field "Number of custom tables to migrate"

Assessment Tool Table List page opens and shows all the custom tables counted (here it is possible to filter by "Version List", ID, Date and other fields if only some specific tables have to be included):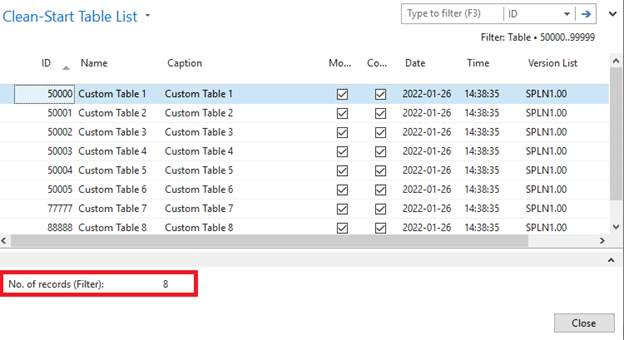 You can view table fields by pressing "Table Fields" action: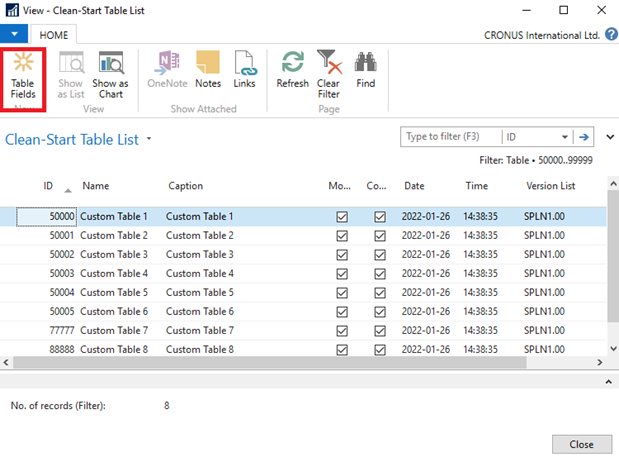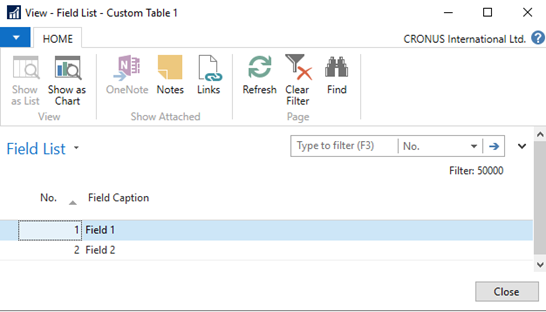 5. Submit results for Assessment​
Once you have reviewed the results, use the Fill In Simplanova Form button to send your statistical data to Simplanova website. This will take you to Simplanova's website's online form.

You will see your NAV solution information automatically populated to the form under "Technical information" tab. Please review. You will then be asked to fill-in the "Contact information" tab.
Once you submit the online form, you will receive an email with assessment of your NAV Upgrade effort evaluation together with the inputs from your NAV solution. You can use this information to consult with your Microsoft Partner on the best migration path for you.