How to install Simplanova Tools v2.07
What are Simplanova Tools v2.07?​
Simplanova Tools v2.07 is a package of the following tools:
Simplanova Report Converter - converting automatically Classic NAV reports to RDLC/AL format.
Simplanova Dataport Converter - converting automatically Dynamics NAV Dataports to XMLports.
Simplanova Report Designer - designing RDLC (C/AL only) reports from inside NAV solution.
tip
If you are looking for tools for converting C/AL code to AL, moving code to events and fixing issues after txt2AL - please refer to Simplanova AL Tools (SALT)
Download​
Download the tools from the official repository.
Buy Simplanova Tools Points​
To start using Simplanova Report and Dataport Converters, you first have to:
acquire a license key and
buy Simplanova Tools Points.
You can do that by contacting us at sales@simplanova.com
Install​
If you are installing for the first time, all you have to do is this:
Copy the Simplanova.AddIns.ReportDesigner.Preview.dll file to the NAV server Add-in folder. EXAMPLE: C:\PROGRAM FILES (X86)\MICROSOFT DYNAMICS NAV\100\ROLETAILORED CLIENT\ADD-INS\SRD\ SIMPLANOVA.ADDINS.REPORTDESIGNER.PREVIEW.DLL
For Business Central v13-14: import and compile v2.07BC/SPLN-TOOLS_1300CU6_207release.fob file if you're using Dynamics 365 Business Central. For Dynamics NAV 2015-2018: import and compile v2.07/SPLN-TOOLS_1100CU16_207release.fob.
Open your Dynamics NAV or Business Central client. In the menu write Simplanova Tools and select it. Then select Classic converter and click Setup.
You will be prompted to select a file once you open Setup for the first time. Please select SRD Resource.zip that you will find in the package downloaded.
Specify license key that you have acquired from Simplanova's sales team (sales@simplanova.com)
After you're done, click "Check setup" button.
note
Simplanova Tools 2.07 can be installed only on NAV 2015 and above versions.
note
Please check Simplanova Report Converter Setup doc page to learn more about the settings
For Report Designer: There is a special sample report, which is called SRD Playground Report. You can import it and use it to test features, to play around or simply see how the tool works. It bypasses the license requirement as long as the predefined tables are used exclusively in the dataset.
Upgrade from earlier version of Simplanova Tools​
Steps to upgrade from 2.06 to Simplanova Tools v2.07:​
Import objects from ""SPLN-TOOLS_1300CU6_207release.fob" or "SPLN-TOOLS_1300CU6_207release.fob" into NAV/D365BC (use Replace All) and select validation sync. scheme = FORCE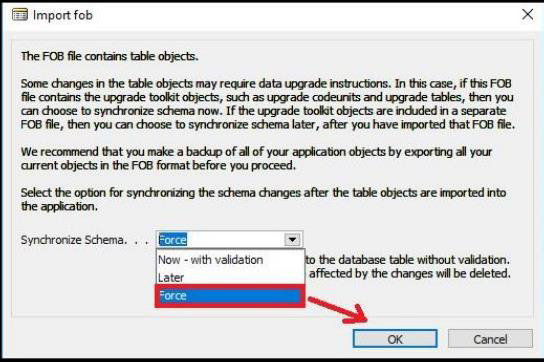 Compile all SRD objects (apply objects filter SRD on Version field) and all menu objects

Restart NAV/D365BC service.
Upgrading from earlier versions of Simplanova Report Designer to Simplanova Tools v2.0:​
In order to upgrade from previous versions of Simplanova Report Designer you must run all intermediate upgrades. For example, if your current version is 1.04 then first you must run upgrade process to 1.0.5, then proceed to version 1.06 and lastly upgrade to version 2.07 as described earlier in this document. Each version comes with its own upgrade steps – please read the supplied readme or Installation Guide for each release.
If you need an older version of Simplanova Tools, please contact us at sales@simplanova.com
note
NAV2013 and 2013r2 is no longer supported by Simplanova Tools 2.07 release. If your previous installation was on NAV2013 or NAV2013r2 you cannot upgrade to Simplanova Tools 2.07.