User Manual for Dataport Converter
Setup​
If you have setup simplanova report converter, there's nothing you need to do to use Simplanova Dataport Converter.
Requirements​
Microsoft Dynamics NAV 2015 (first release) or later versions;
a working internet connection is necessary to convert the dataports;
a working development license is required cince the tool runs as a set of NAV objects;
.NET framework 4.0 or later should be installed on server system.
General Interface​
Navigate to Simplanova Tools\Classic Converter section and click "Tasks" – a new window opens. Select XMLPort in object type selector dropdown.
Uploading dataports for conversion​
When you want to upload new dataports reports for conversion, click "Upload" button and select an object file that contains classic dataports. Then click "Open" to close the dialog.
caution
Table objects used in dataports MUST BE INCLUDED in the uploaded file. Failing to do so will result in conversion errors.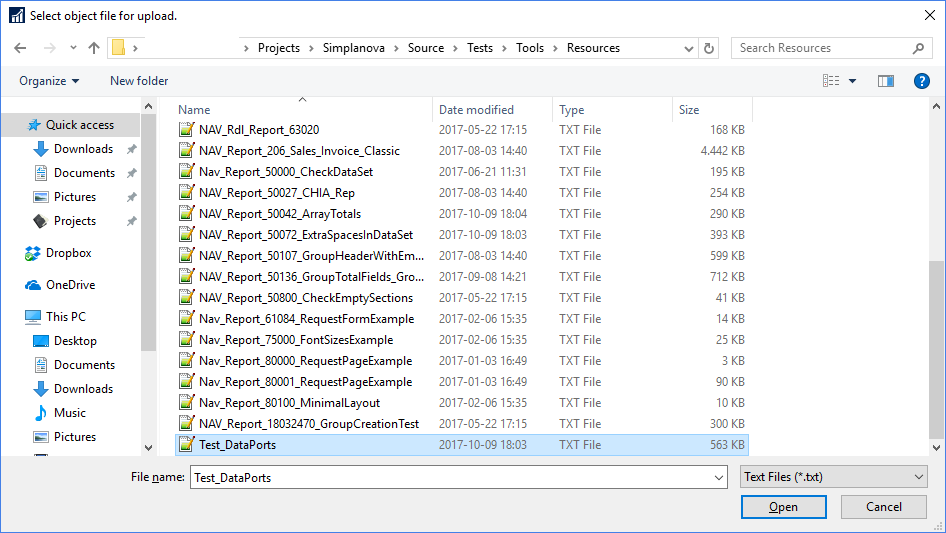 note
you can include any number of dataports in uploaded file.
After the upload is done Simplanova Dataport Converter will extract and evaluate all included dataports. You should see a list with all uploaded items.
Converting dataports to xmlports​
After dataport objects have been uploaded, you can convert them.
First select which objects you want to convert by clicking checkbox in "Convert Object" column:

For each selected dataport one license item will be used during conversion. When you are ready, click "Convert" button. Conversion will start immediately and you will be notified of results.
Check conversion log for each object to see more details. You should see an output similar to this:
When the operation is successful the converted xmlports are automatically imported and compiled.
Additional converter actions​
When you click on the "Actions" tab in converter menu, there are additional actions available.
Re-Import Objects: tries to run import operation again for converted xmlports. Useful when you choose not to overwrite existing objects during initial conversion.
Export Converted Objects: exports converted xmlports into object file and allow to download them.
License Info: displays available Simplanova Report Converter license amount and usage history. You can order converter licenses here http://simplanova.com/simplanova-report-converter