Conversion Options
There are a few converter options which can be selected/unselected before conversion and have influence on conversion results:
Adjust Font Size – reduces font size to fit in available text box height;

Substitute Fonts – applies Segoe UI font for text boxes that do not have font family specified;

Add missing ENU Captions – if ENU caption translation is not available, automatically creates it by copying the first available caption translation;

DataSet Name Style – if Prefix DataItem option choosed, Report Dataset Designer column name has syntax: "DataItemTable" + field name,


if "Postfix DataItem" option choosed, Report Dataset Designer column name has syntax: field name + "DataItemTable".

Add Visibility Expressions – creates visibility expressions (recommended true).

Convert To AL – converts report from classic to rdlc and to AL.

Add Horizontal Paddings – sets 1pt left and right paddings on textboxes.

Add Documentation Trigger – adds specified text in documentation trigger.

Add Version List – sets version list for converted reports.

Create Copy of SRD Report – creates SRD report for converted report.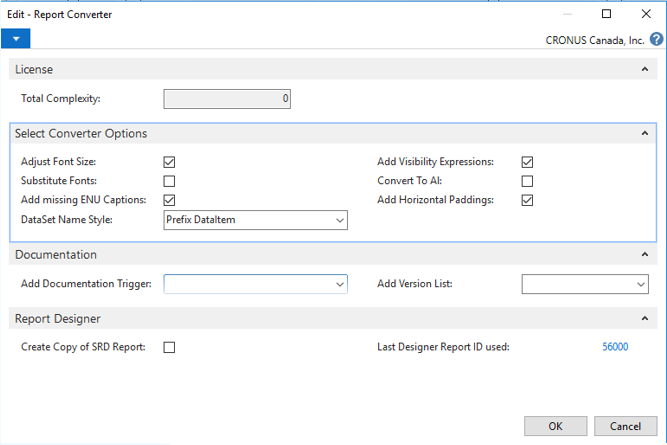 Figure 11. Converter options.
After complexity calculation where is a possibility to correct some of report header/footer conversion options. You can chose where to place your header/footer sections in body or in header/footer.